Green River College is the home of two non-profit, non-commercial radio stations, KGRG-FM and Classic Alternative KGRG1. Both of our stations are completely managed and staffed by students enrolled in GRC's Broadcast Journalism program. All of KGRG's content, including music selection, production, promotions, specialty programming, web content, and social media, are all curated in-house by our student DJs and management.
This is radio for the kids, by the kids.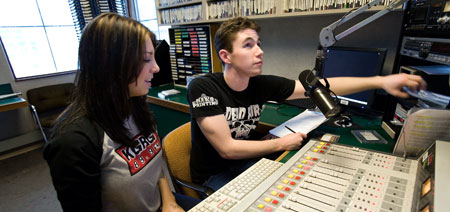 Green River College offers one of the best, most comprehensive radio education programs in the country. What sets us apart is that our coursework is combined with live on-air practice and experience that students can apply to any number of jobs in the broadcasting industry.
Our radio lab classes focus on hands-on learning, including coaching on announcing, newswriting, and radio production techniques, while our lecture courses get deep into the history of broadcasting and broadcast technology, as well as education about the business of radio, including marketing , sales, community relations, and programming.
Several of our classes satisfy a Humanities/Fine Arts/English requirement for an AA degree as well activity credits for other degree paths offered at Green River College. GRC also offers its own Broadcasting Associate in Pre-Professional Degree.
Below are links to which courses are available during each academic quarter at Green River College, as well as a listing of all the Broadcast Journalism courses.
If you have questions, comments, or concerns about academic advising, contact our General Manager and Faculty Advisor, Tom Evans Krause via E-Mail: tkrause@greenriver.edu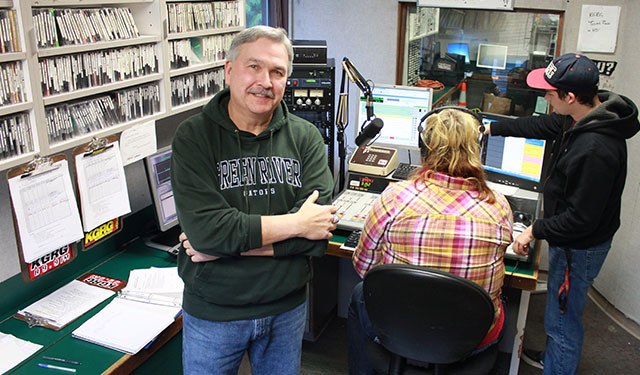 Dept./No. – Course Title – Credits – Quaters Offered
---
Journ 110 – Radio Laboratory 1 – (1-5) – (summer, fall, winter, spring)
Journ 120 – Digital Radio Laboratory 1 – (1-5) – (summer, fall, winter, spring)
Journ 205 – Radio Management – (1-5) – (summer, fall, winter, spring)
Journ 150 – Introduction to Broadcasting – 3 – (fall)
Journ 151 – Radio Production – 3 – (fall, winter)
Journ 152 – Radio and the Community – 3 – (winter)
Journ 153 – Broadcast Newswriting – 3 – (fall)
Journ 156 – Broadcast and New Media Announcing – 3 – (spring)
Journ 162 – Introduction to Broadcast Technology – 3 – (winter)
Journ 254 – Advanced Radio Production – 3 – (spring)
Journ 255 – Marketing the Broadcast Media – 3 – (spring)