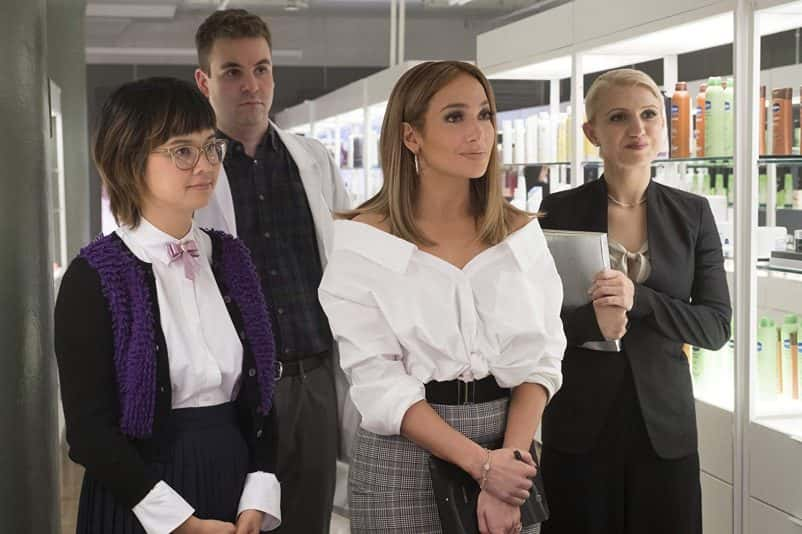 By Joe Hammerschmidt
I may not require too many words to describe my thoughts toward Peter Segal's Second Act. If one's already familiar with Working Girl, Maid in Manhattan, or more recently, one-half of the plot for I Feel Pretty, then it's a trial-by-fire reattempt at the same story formula, only with Jennifer Lopez amping up the charm factor to an unabashedly high level that other actresses could only dream of achieving. It was a little too generic for my tastes, yet then again if my tastes are continuing to slowly expand to include the occasional chick flick, I can't complain too much. Structurally speaking, it runs like it needs to. Yet, given the caliber of B-level talent running at maximum speed, there could've been more to tell, more to say, and more originality to spare.
The premise appears simple enough in writing, yet still very much like a reused logline from many a script before it. Maya Vargas (Lopez) is slowly pushing 50, with her career plateauing after fifteen years in the same medium-level position at a big box store in the heart of the Bronx. Her savviness had turned the place into a hot player in the neighborhood, yet a long-overdue promotion just as easily drops out of the deck of cards upon a conflict in ideas, and a sudden change in protocol demanding incoming managers possess some sort of college degree. It's a setback for Maya, yet a boon for bestie Joan (Leah Remini) and her doting son Dilly (Dalton Harrod), who casually beef up their pal's resume to try luck with other companies, purposefully fudging the truth as they go, turning the hard worker into a dual Harvard/Wharton grad with minor political connections and a fluency for Mandarin (one of the best-written scenes makes it a slightly careless joke).
All that draws the attention of Anderson Clarke (Treat Williams), head honcho at a Manhattan-based cosmetic company, who immediately boards Maya to develop a new skin care product that's as organic as it is cost-effective as possible, with only eight weeks to accomplish the task. Make matters more complicated by pitting the new team member against the boss's daughter, Zoe, their respective teams taking exceedingly different approaches to the ingredients and the marketing of the product. Once the race begins, Second Act goes nowhere pretty quickly, not moving too far past Maya's career goals, stopping briefly to let her past catch up with her, and in the case of on-again/off-again boyfriend Trey (the ever hunky Milo Ventimiglia), a smidgeon of the present.
Segal, a name synonymous with crafting a handful of below-average comedy gems in recent years, Get Smart and Grudge Match the better examples, isn't exactly the type of director who can slowly flow out of different story beats as much as he does just hitting the brakes when it's convenient to make a shift. It's one moment spent seeing Maya's secret side, then we stop for a moment of humor, tapping the brake pedal again, even harder for somewhat jilted character camaraderie.
This is a pure starring vehicle for Lopez, and much of the supporting cast barely receive enough time to make a substantial impression. They're not wasted on, just not made better use of. For the blue-collar business types, it's certainly Dave Foley's whimsical Felix, one of the biotechnicians on Maya's team who could've played a larger role. Same toward the always delightful Charlene Yi as Ariana, the rather geeky analyst responsible with the numbers side, who forms an accidental romantic entanglement with the stereotypically nerdy Chase (Alan Aisenberg), to which there's not much abounding. And even the stuffy Hildy (Annaleigh Ashford) can lay down a few brash jokes as a hard-nosed marketing advisor.
Amazingly enough, that didn't faze me so much as what Maya tries to build with Trey. Ventimiglia clearly gets the short end of the stick, he only appears in not but three or four crucial scenes, nothing more than a distraction, not just toward the viewer and likely Lopez as well. Hudgens, meanwhile, is like a steady rock as far as antagonists go, picking up any apparent slack her on-screen dad drops behind. And Miss Remini, J-Lo's real-life BFF, her mere presence was easygoing enough to bring back that same comic style she was always capable of back in her King of Queens days. Unapologetic, yet still a touch sensible.
Keeping these confident performances in mind, it did pain me to see them working against a storyline that doesn't aim too high, confident in sticking to a particular formula, where a little white lie or a misguided truth stays the key to building one's self-worth and determining where and how our life goals are changing. Second Act does embrace that part of our lives where we question our future, but can't commit to being as realistic about it as one would hope for. Justin Zackham (The Bucket List), and first-time scribe Elaine Goldsmith-Thomas do not mix their story strengths too well, making the experience a slight shallow, knowing far too well they couldn't look past remaking Mike Nichols for the modern era. It's both a struggle to endure, yet somewhat still watchable on performance strength alone, even if J-Lo not at the same career high she was a decade or so prior. It serves its predestined, prepackaged role as a real starring vehicle, but the vehicle may be a bit antiquated. It will reach its target as the holiday chick flick, for those gals not interested in a man-fish. No more, no less, and no rewatch value to apply, which may be just fine enough. But one can hope we could still see the same Jenny of Selena or Monster-in-Law before it's too late… maybe just once? (C-)
Second Act opens in most area theaters this weekend; rated PG-13 for some crude sexual references and language; 106 minutes.