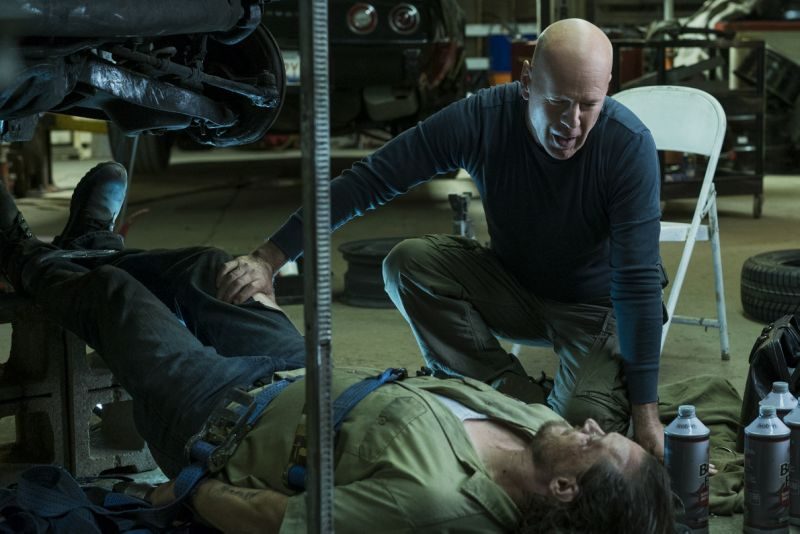 by Joe Hammerschmidt
A five year gestation period may seek like too long a wait for a film to sail off the ground and into production, especially when it's nothing less than a remake of a controversial revenge-plot film from the 70s. MGM's take on Michael Winner's vigilante tail Death Wish took that long, shuffling directors constantly, and altering the release status slightly until it was confirmed they were ready to self-distribute once more, with Annapurna's assistance. To settle on Eli Roth is setting oneself up, primarily for gore without substance. Through him, it's an uneven misfire with the blood-based jokes, and Bruce Willis' one-liners inconsistent with an otherwise killer reimagining idealized by Joe Carnahan (The Blacklist).
Willis assumes the famed Charles Bronson character of Dr. Paul Kersey, an exceptional chief of surgery at a major Chicagoan hospital, with lovely wife Lucy (Elizabeth Shue) by his side, and intellectual daughter Jordan (Camilla Morone) about to start college in the big city. But of course, things take a serious shift when they both turn up at said hospital after a robbery turns sour; a valet hijacking private information of the Kersey's home address as a catalyst plus the three of them and brother Frank (Vincent D'onofrio) meant to be out at a birthday dinner for Paul but ends up cancelling is the cause. Accepting the grief of his partner shot dead, their daughter in a coma, in the worst way Paul does grow frustrated with the crime element throughout Chicago, which seems to bleed too much when it comes time to exact revenge, take matters into his own hands and seek closure, his mental state slightly deteriorating.
There had been the fear of this film just failing to draw an impression. It barely scratches by with Willis, who either looks like he's phoning it in or doesn't have the desire to exert himself fully. He'll fight with the best spirits, no problem. But you could tell even with the gunshots to his hand, he's in full hesitation mode to save himself at all corners. That is rather a challenge, with the police breathing down his neck. We do find Dean Norris and Kimberly Elise somewhat of a cautious delight as the two detectives assigned to bury the lead on Kersey's case, but then picking up his vigilante streak, the public affectionately moniker-ing him "The Grim Reaper."
If you know the 70s original well enough, there's a good chance you'll know this one too well, and cringe. I had run out of time to view the classic Death Wish ahead of the Wednesday screening, so I can't fully judge for the two back and forth. Yet I'm sure there's no coming close to some form of controversial greatness. Nonetheless, all the pieces of what should be something enjoyable are present, but they do not fit. Carnahan's writing and Roth's direction really do not blend well together; as mentioned above, the script has plenty of funny moments to counteract the dark tone of the subject matter. Roth, sadly weighs down those ironic hilarity moments with his trademarked brand of gory gags, ergo turning the film into a slightly askew revenge porn, without the sex. Even with Willis in the lead, and a fun supporting cast, that is not enough to protect its fragile ego from being shed further.
For those who have seen the original, better to avoid this new Death Wish. If you do intend to see this remake, don't make the same mistake I did; watch the original first and be prepared to potentially see too many similarities. The lesson being, there's just no improving on what a film four decades prior could stand for now. A remake can always do right by its era, aging just as well, and be echoing the pivoting trend of the time period it belongs to. Yet, for the reasons mentioned above, and its ill timing with the release date, there's proof the dream is never always the case. (C-)
Death Wish is in most area theaters this weekend; rated R for strong bloody violence, and language throughout; 106 minutes.