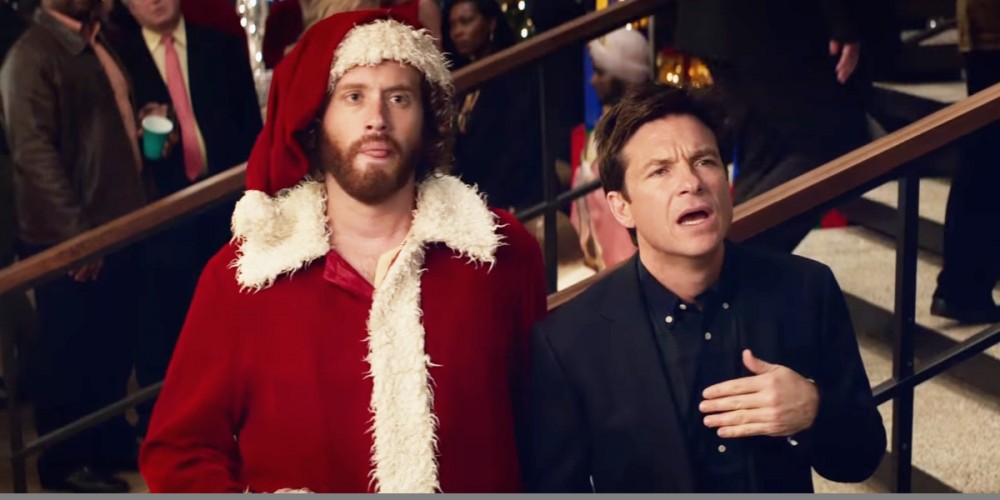 by Joe Hammerschmidt
In a time when the term "Christmas movie" has made the results of a cinematic product hit-and-miss, "Office Christmas Party", with that labeling term, shines like an expensive holiday jewel. As a "raunchy holiday comedy", which appears to have made a true comeback after last year's "The Night Before", it has the potential of regular playback at least biennually. But as a "comedy" in the general interest, like many this year, it has a real spark of originality, even if it tries too hard in landing every joke just right, so much that the focus is rather uneven throughout. Yet, thanks to one of the strongest comedy ensembles I've seen this year, whatever instances of flat-falling humor can be forgiven.
Central to the story is Carol (Jennifer Aniston), soon-to-be CEO at data services firm Zenotek, and an absolute hardass. Her party-hard brother, Clay (TJ Miller) runs the company's floundering Chicago branch. Desperate for a solution around the holidays, Carol opts to make drastic cuts, mostly to protect her interests. And yes, that does include cancelling the annual Christmas party. Clay, his number two Josh (Jason Bateman), and their collective number three Tracey (Olivia Munn) scramble to place a del with a client they had been hovering over for a particular timeframe, financial mogul Walter (Courtney B. Vance at his most [eventually] inhibited). As a last-minute reprieve, the trio invite Davis to a figurative "party", which in the short span of six hours manages to turn into one significant happening, with all the senseless debauchery one could handle if invited.
However, even with an A+ cast to keep the concept on forward footing, and it does manage to stay stable, a great amount of the one-liners don't tickle the funny bone as well as they were meant to. Six writers were involved to perfect the script, notably Hangover Trilogy scribes Jon Lucas and Scott Moore (billed with story credit), whose sense for grown-up anarchistic rigamoroles shines through yet again, though that may not necessarily be a great thing for the comedic genre in the seven years since. Simultaneously, directing duo Josh Gordon and Will Speck, successful in reuniting Bateman and Aniston following their previous collaboration, 2010's The Switch, figure the script they were working with didn't crutch them in allowing their actors to go slightly above what was written. Yet even the stuff that felt more powerful and unscripted was also either forced or constricted; still, some singular character performances persevered against the multiple odds: Aniston as the enemy boss with skills in kravmagah (reliable for anyone in upper management, really); SNL vet Kate McKinnon as the HR rep with a severe conscience crisis; Vance as the true victim of the film, both as a party guest and in the business sector; and the combination of Deadpool supporting performer Karan Soni as the nerdy virgin hacker, Victoria's Secret model Abbey Lee as his "hired date", and an electric Jillian Bell as her boss. Needless to say, that connection, while hilarious, may not pan out perfectly for either of the three.
The atmosphere of the party itself is what eventually steers this modern holiday laugher into the green, all the working elements meshing together to create a synthesis of madness, even if when broken down to its separate parts it will always be lacking something. "Office Christmas Party" will have a regular presence on TV in later years, with the potential of being as quotable as "Elf" or "Scrooged" before it; only time will tell. But for now, just know I had plenty of laughs, but walking out you may ask yourself why you laughed. The potential was more than existent, yet the hollow, open-endedness on which the humor was expected to land on may not have helped its case. Regardless, it's still satisfying enough to indulge in for anyone in need of something truly adult/raunchy this holiday season. Do not be surprised if this effort's success does indeed lead to more of the same type for Xmases to come, however; done right, the respective stocking should be well-stuffed. (C+)
"Office Christmas Party" is rated R for for crude sexual content and language throughout, drug use and graphic nudity, currently playing at most area theaters (105 minutes).