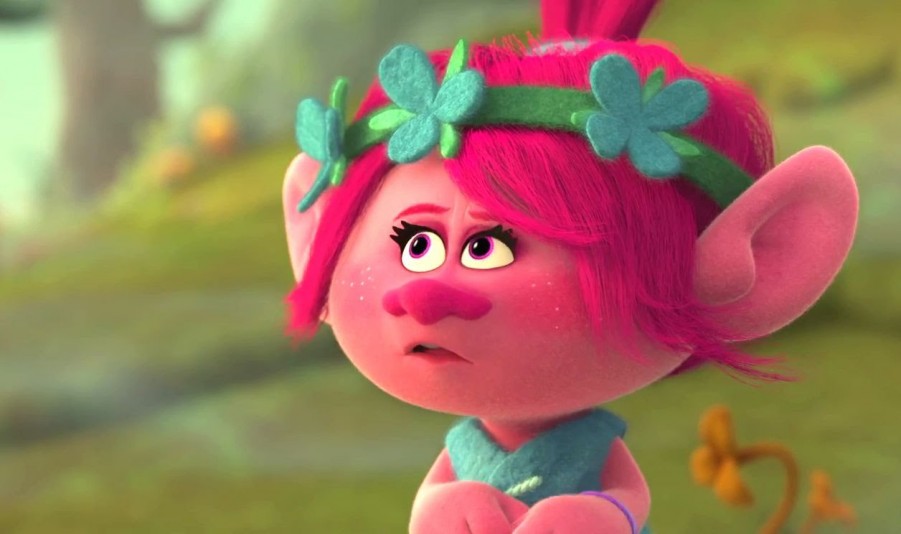 by Joe Hammerschmidt
It appears the rough seas are slowly passing for Dreamworks Animation, now with a new owner destined to tap into whatever remaining potential they have left in their expensive rendering servers. Yet the residuals still need to be conquered past, and Trolls, the latest in their canon to draw inspiration from an established IP (Thomas Dam's legendary line of dolls), is one of them; luckily, the spirit evoked throughout is infectious enough to both children and parents, both sets are likely to exit the theatre smiling and tapping their feet. I give my honest word on this: by the time the credits were rolling, my serious critic face had been replaced with a goofy smile and rhythmic response. Regardless of how much I can barely handle most pop music these days, Justin Timberlake is still a good egg. Eager to draw notable influences into his musical efforts, he pulls all the stops with the troll universe's signature sound, one with a steady mix of show-stopping originals and plot-driving covers.
Timberlake lends both voice and alternative personality to Branch, the resident grumpster and ever-vigilant doomsday prepper, keen on protecting his village from another eventual attack by their persistent enemies, the Bergens, with their well-meaning yet critically invaluable goal of attaining the trolls and eating them whole to achieve total happiness. Fast-forward twenty years later, they're all relatively safe, until a higher noise volume at a village party prompts a long-ago banished Bergen living on the outskirts of their village (Christine Baranski) to take action, hopeful to finally appease snotty teenage Prince Gristle Jr (Christopher Mintz-Plasse). Unexpectedly, his moral views, faded as they appear, are laid down under a microscope of civility upon encountering Bridget (Zooey Deschanel), a scullery maid aiming for the prince's affection. Response rests on the peppy troll princess Poppy (Anna Kendrick), in a retaliative blaze of pink fury, making for easily the strongest number in the film, the Top 40/show-tune hybrid "Get Back up Again." Branch, ever the worldly expert, eventually joins his polar opposite on the primary quest of recovering the kidnapped trolls, and in the process, hope to spark an interest in the prince towards the maid in respite for an image makeover.
Co-directors Mike Mitchell and Walt Dohrn (previously collaborators on Shrek Forever After, alongside fast-working writers Jonathan Aibel and Glenn Berger) un-spool a charming tale of triumphing over adversity and seeking the true meaning of happiness; however, because of how aware the core team was towards the type of audience this film is projecting to, there were points where I wondered for every hilarious beat noticeable, there was sure to be one or two flat, pandering side notes waiting around the corner. After the first 20 minutes, you may breathe easy. Simultaneously, the plot keeps itself grounded so as not to push the envelope too deep, if at all; yet its simplistic-ish nature is instantly accessible, especially if you have ever once fully questioned what your definition of happiness is. In my experience, that's happened at least twice in my short life.
Kids will adore this treasure mostly for the music and the color, parents will smile towards that existential message, and those in the middle may find either a strong case for cinematic psychedelia, cabaret night fodder or easygoing fun. I had found all three in just the level of talent in the cast alone, expertly helmed by Timberlake and Kendrick, along with strong supporting performances through the likes of Corden, Brand, Tambor and Stefani. Despite never succeeding in escaping the shadow of being "just a kids' movie", Trolls carries enough weight to leave everyone in the audience nodding in approval. All the cool people will reluctantly choose this film, but whether you end up disliking, leave buying the soundtrack as an option, if only just for the sappy-yet-appropriate cover duet of "True Colors". Audiences' colors will shine brightly, given half the chance. To paraphrase, don't be afraid to let them show. "Cool parent" status achieved. (B-)
Trolls is rated PG for some mild rude humor, and is currently playing at most area theaters. 92 minutes.