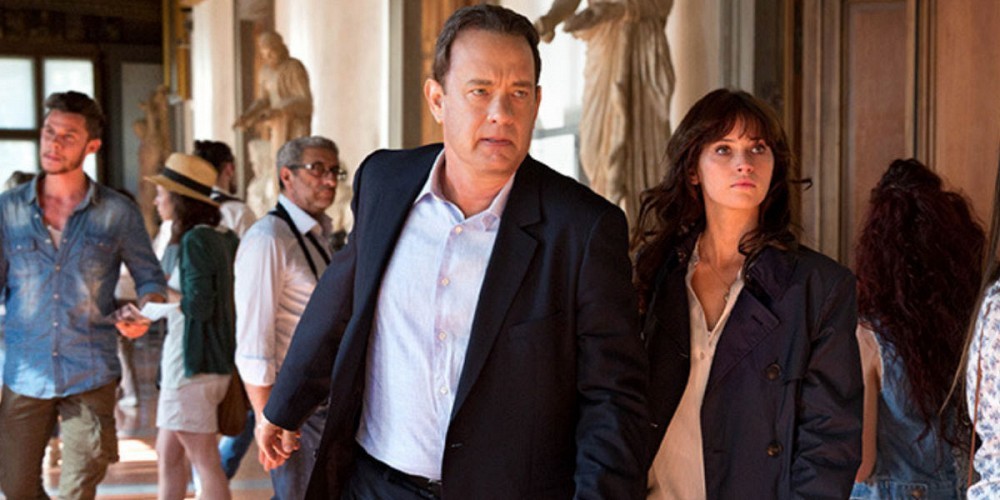 By Joe Hammerschmidt
The lack of Akiva Goldsman's sophisticated writing style, which made the first two films in Ron Howard's exploration of Dan Brown's series of novels focusing on noted Harvard-based symbologist Robert Langdon, is felt almost immediately at the start of the film, arriving in theaters at least two years too late. David Koepp who contributed certain rewrites to the previous installment, "Angels and Demons" rides solo on the adaptation, one which sees more shortfall than high-rise. Tom Hanks returns as the pivotal Professor Langdon, a folk hero in his own right. Conveniently waking up in a Florence hospital following a supposed case of amnesia, he is thrusted into an immediate run-in with young ER doctor Sienna (Felicity Jones), and from there the action hits, and literally refuses to stop til the final resolution, as the professor races to recover his lost memory, leading the pair to a mysterious trail of clues tied to the trials of Dante, and a close connection between the false idol and a deceased madman scientist (Ben Foster) who claims to have the solution to the planet's overpopulation crisis.
The puzzle pieces in play, both with the film and the Dante mystery are all present and accounted for; how they're arranged is what accounts for the shoddy misfire. Given better planning, there would've been a little more fun to be had. Alas, the fun of the franchise, particularly most potent in "Angels" has been sucked dry, only leaving Hanks in misery, Jones acting as an acidic buffer, and others in the cast left with little to go on, notably poor Irrfan Khan as a security fund manager working to control the late scientist's assets, including the crisis solution.
Howard is still a capable director, and he tries his best to give enough respect to the source material, it's simply the other 90% of the human power involved that fails in keeping up with the multiple surprises, unwelcome flashbacks and ill-planned character development in Langdon. It was almost like a far less interesting duology was forming with this film; no chance this could ever be the third film in what can be considered the "Da Vinci Code Trilogy". By default, "Inferno" will stand as the worst of the three, upon the condition that, should there be a fourth, the potential for diving deeper into obscurity. Those serious horror fans will find a treat, but the Brown enthusiasts may walk out saying, hopefully this once, the book was better. (C-)
Inferno is rated PG-13 for sequences of action and violence, disturbing images, some language, thematic elements and brief sensuality, and is currently playing in most area theaters. 121 minutes.