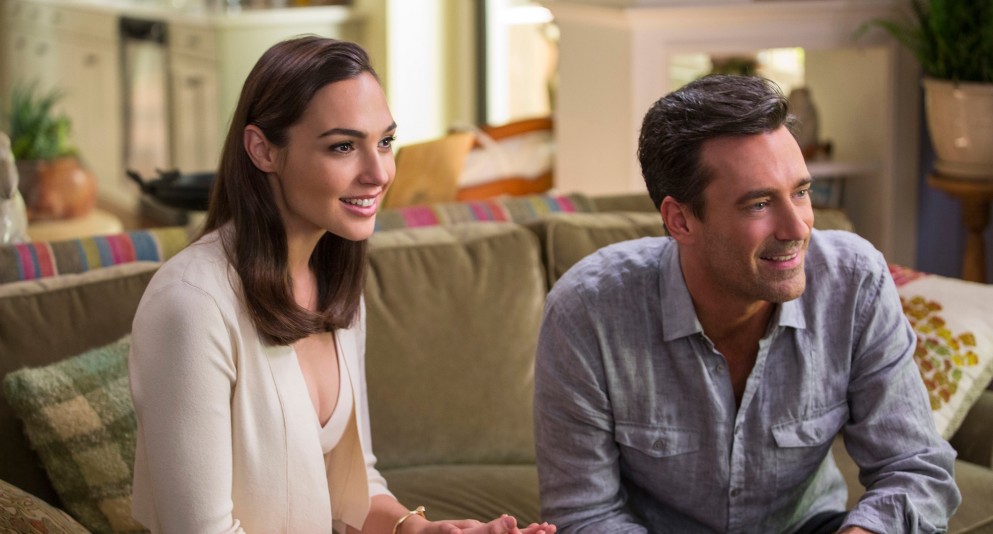 by Joe Hammerschmidt
When one thinks of the name Greg Mottola, chances are their go-to would be his breakout hit as a director, 2007's "Superbad." Now after five years (three if we're counting the brilliant Larry David-penned "Clear History), his return to the world of theatrical features is… a little less than stellar, yet still welcome, just slowly. Not allowing myself to learn much about it, "Keeping Up with the Joneses", upon first glance, was meant to be a solely star-driven effort, with a loose-fitting plot, but lacking in depth perception. Having seen the film blind and firsthand, the statement remains unchanged, but at least it was a little funny, thanks in huge part to Zach Galifianakis, who can now slowly be forgiven for the disaster show he led in "Masterminds".
Galifiankis pairs with Isla Fisher as average suburban married couple Jeff and Karen Gaffney, he a HR guru at an Atlanta-based tech giant, she the steady stay-at-home design planner. Celebrating their first child-free summer, having sent them away to camp, they find their simple, quiet lives taken aback a touch when new neighbors, The Joneses, Tim and Karen (a surprisingly effective matching of Jon Hamm and Gal Gadot) move in. Young, perky and adventurous as they seem, Karen is convinced they're not all they seem the closer she and Tim become as friends. In an rather flat reveal, the ball drops that they're secretly undercover spies.
From there, an almost perfect action comedy unfolds; only through Mottola's skillful directing style does it stay in the green. Each member of the brilliant ensemble both can stand perfectly on their own and work together whenever necessary. Galifianakis is at his most comfortable as the bumbling lower-level office employee with a good heart, again more so than his disappointing turn in "Masterminds"; Hamm proves again he blows his script copy out of the water; Fisher maintains her usual energetic self known to have saved her in previous jams; and Gadot, whose solid chemistry with Hamm is enough to maintain the film's worth, and who was in all honesty the strongest newcoming element to come out of "Batman v. Superman", just stuns as she has before with both smarts and looks.
Unfortunately, like many a recent studio comedy before it, the script (an extensively fleshed out version of the potentially one-page premise it was adapted from) fails to stay level, where some jokes land perfectly, and those without setup bomb miserably. For every good line, there were two or three mediocre ones immediately after. In that setup, there is a noticable sense of hesitation, but luckily the film's aware enough of its own shortfalls it can pull itself together at the end, the real saving graces being the characters' bond as friends, and the methods Mottola took to seek that out of his actors. "Keeping Up with the Joneses" should leave a smile on your face if you let it, with enough humor to retain stability through the last frame. At the same time, it unnecessarily holds itself back, thinking they can up the ante a little bit further. Alas, it was already set high enough to begin with. Worth a rental, at least. (C)
"Keeping Up with the Joneses" is rated PG-13 (for sexual content, action/violence and brief strong language), and is playing at most area theaters. 105 minutes.