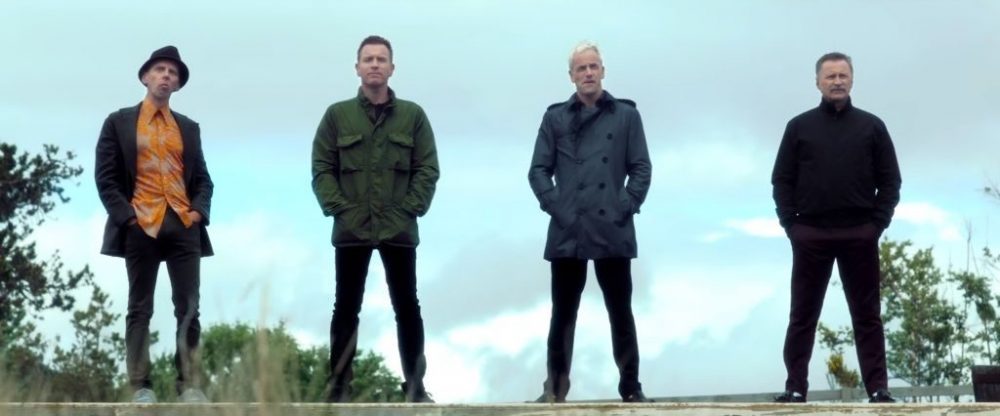 By Joe Hammerschmidt
[PLEASE NOTE: Do not read this review unless you are familiar of the original 1996 feature Trainspotting]
I do not use that term lightly, mind you. For a sequel to hit me deeply, two things must occur: It must either compliment or surpass its predecessor in every way, and the desire to see the characters loved in previous incarnations must be worth the wait, however long it may be. This one, a two-decade wait in between has succeeded on both counts. Director Danny Boyle was always quite hesitant about proceeding with a follow-up to the 1996 film that made him a household name to begin with, and rightfully so. Even without having personally read the books to which both films lend inspiration to (Irvine Welsh's Trainspotting and Porno), I could understand the level of impossibility Boyle and writing collaborator John Hodge had been working against to make this follow-up a reality. Still, I was excited. The first Trainspotting was one of those essential movies I discovered in high school that had left an indelible impact, not so much for its case study on the dangers of a drug life, but for its expression of life itself, shared between close friends. Boyle knows his way around stories directly involving humans in human situations, capsules of life that are indeed shared experiences, even when the setting and circumstances do not look familiar. And for our four surviving leads, when those same experiences we collectively experience together as kids come back to haunt as adults, all hell will break loose.
Ever since they were kids, Mark Renton (Ewan McGregor), Daniel aka Spud (Ewen Bremner), Simon aka Sick Boy (Jonny Lee Miller), Begbie (Robert Carlyle), and the deceased Tommy (Kevin McKidd, seen throughout in flashbacks) always shared a close-knit relationship, and that stuck even when a crippling heroin addiction had all but torn them apart. 20 years after swindling his mates out of £12,000, now-adrenaline junkie Renton finally makes the wayward trek back to Edinburgh by way of Amsterdam, a city he no longer recognizes if the multi-cultural airport greeters are an indicator. Unsurprisingly, in attempts to reconnect with absent friends, nearly everyone hates his guts, knowing their lives only grew more pointless without the money. Begbie is doing an extended prison sentence; Spud still fights with his demons in the wake of losing his wife and kid; and Sick Boy balances cocaine with porn trafficking and the joys of small business, owning a dilapidated pub on the outskirts of town with girlfriend Veronika (Anjela Nedyalkova). Through initially making amends, Renton professes his life in Amsterdam is delicately falling apart and joins up with Simon to expand his footprint, and helping Spud to curb his addiction. In the background, Begbie is just out for stone-cold revenge after a well-executed escape attempt; if his family hadn't given much hope for him while locked up, who's to say they would now?
While staying very familiar to the Britain of the 90s, even to the point where key songs from the previous installment's soundtrack are reused/remixed to careful effect, Boyle grounds his work firmly into the present, keeping the focus on the qualities of the characters themselves, whom are granted an equal amount of time. A family reunion always unlocks many unbridled emotions, and Boyle channels on each one; with Mark, especially, his journey home is one of high complications. He felt so confident in making the right call, but realizes in the throes of middle age, he had allowed the closest family he knew to lose him as much he lost them over two decades gone. But he tries so hard to make it work, reminded of what was easy to gain back, what he stands to lose by returning in the first place, and what he knew would be lost forever; a painful reunion between Mark and one-time fling Diane (a bitterly refreshing cameo by Kelly MacDonald) is the best example. Spud, in his period of recovery, unwittingly waxes eloquence in retelling his own story to a surprisingly patient Begbie, who finds the son he'd never seen up close his opposite, much like himself to his father back in the day.
Thankfully, this film has plenty of upbeat moments, as well as some thoughtful points wrapped as humorous trysts, normally caused by camera choices made on a technical level or by accidental situations unexpected by characters. The near-improvisational feel of a song inspired by the "Battle of the Boyne" in 1690 while Veronika snatches pub-patrons' credit cards would easily be the kind of finely comic scene that could only match with a dark-ish subplot. The way we observe characters' actions, all of which are evenly presented on screen, they are so well reflected in the choice of cameras used; compared to the original, there's no straightforward shooting style which helps in showing each character's mindset, making use of shopping mall security cameras with faces covered by smileys, even iPhones to highlight the casual rush of Veronika/Simon/Renton's crime spree, something that would've seemed impossible to achieve with a high degree of accuracy in the 90s; and with the heaviness of past memories, those beloved and those worthy of blocking out permanently.
From beginning to end, every scene, every flashback, every moment of human bonding is special; Boyle strips the uniqueness away to expose the detriment that time adds to a memory, be it good or bad. What he's done here will likely not stand as his best all-time work, though may have a difficult time convincing anyone it isn't his most emotional. I wound up rooting so hard for these friends to rediscover what they had once thought was theirs, a connection where nothing would've broken them; greed did, addiction did, life did. Life has a way of destroying us on the inside, and when our will is broken we succumb to familiar ritual in a way to cope. There was one moment I will not spoil where I felt that will was broken, and I started to tear up when their chances of breaking past ritual were slimming down. So much like its predecessor, yet careful to keep a safe distance away, this new adventure will remind anyone why life happens, why we need to "choose life" per Mark's brutally honest monologue, why nothing can't be taken for granted in existing. With a strong cast, vivid storytelling, imagery literally blending the past and present (a rapidly changing Edinburgh looks to be the case study), and a captivating final scene where youthful joy appears rampant and the genius of Iggy Pop remains unchallenged, T2 Trainspotting already has potential, not quite yet as one of the best movies of the year, but among the most significant. (A)
T2 Trainspotting opens in Seattle on Friday (Uptown in Queen Anne, Guild 45th in Wallingford), with additional theaters to follow on March 31st; rated R for drug use, language throughout, strong sexual content, graphic nudity and some violence; 117 minutes