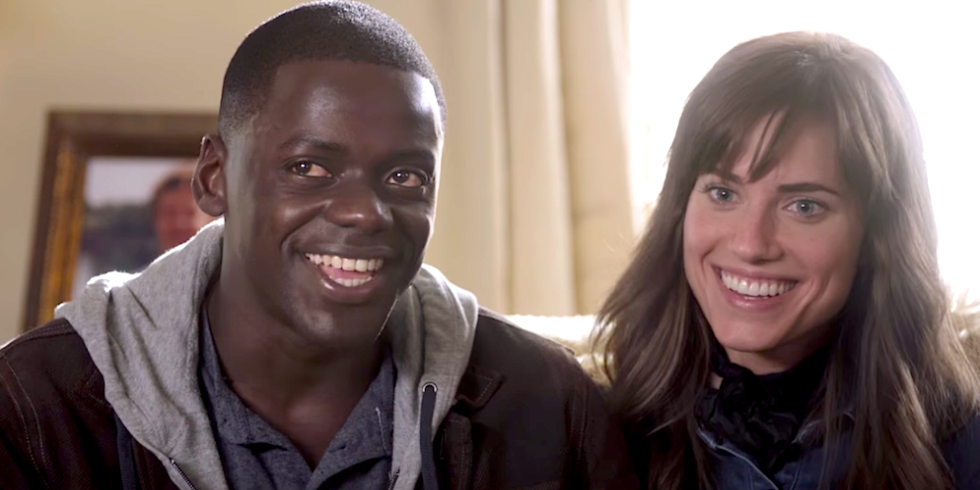 By Joe Hammerschmidt
Dearest readers, I regret to inform I'm still just not quite sold on the whole horror genre yet, but in the last few months, I have made some significant progress, having been introduced by friends to every "Nightmare on Elm Street", and others like it. Still, the current trend of bankable horror flicks, one in rapid succession after the other proceed in exhausting me to no end. So to see some kind of revelation in stepping away from tired formulas, and instead using elements of horror to convey a message of affirmative action? You'd certainly have the makings of something worthwhile for the genre, from the person least likely to attempt and succeed. Comedy veteran Jordan Peele, one-half of the legendary "Key and Peele" makes his feature directorial debut (solo feature writing credit follow-up to last spring's comedy masterpiece "Keanu") with the first true cinematic surprise of 2017, absolutely nothing like I had expected, a purely refreshing reprieve from your average substandard horror epic, "Get Out."
In a plot which feels like a satirical crossbreed of "Guess Who's Coming to Dinner" mixed with "Night of the Living Dead", two films I oddly have large amounts of respect for, albeit in rather distinct ways, Peele considers the recent windfall of the racial zeitgeist in memory right from the first scene, shedding light on even the simplest of horror tropes. The whole "black guy dies first in a horror movie" cliche is flipped on its head and dissected well enough to firmly set the tone of the story, a frightening adventure which is also meant to raise the stakes for talking deeply about racialized stereotypes. Photographer Chris (Daniel Kaluuya, last seen as Emily Blunt's capable ops partner in Sicario), a successful black man, ventures out into the New York wilderness with his white girlfriend, college student Rose (Allison Williams), for the standard point in anyone's relationship where the boyfriend willingly submits to meeting the girlfriend's upper class parents (Bradley Whitford, Cathering Keener) for a long weekend at their lavish estate. Naturally, Chris is concerned since Rose never had the opportunity to mention to her family about her boyfriend's race.
As the duo split off in their own separate tangents, Rose reconnecting with her family, Chris discovering the suburbs are nothing like he'd ever had remembered; profiled at every wrong turn (a momentary argument over identity with a white police officer sent off the largest red flag in my mind), by nearly every white person he bumps into, each one contributing to the cycle of torture for poor Chris; only two black individuals on staff in the compound, handyman Walter (Marcus Henderson) and chief maid Georgina (Betty Gabriel), the pair already heavily zombified by the time our couple arrive. One key example: Rose's mother Missy (Keener) is a practicing psychiatrist who convinces Chris she can knock his smoking habit; through her hypnosis, he discovers more of the deeper meaning behind Rose and her family's overt insensitivity, and in turn grows more uncomfortable around them, realizing a direct parallel of oppression seen by many in generations past.  What seems his only hope is through his closest friend, TSA agent Rod (Lil Rel Howery of "The Carmichael Show" fame), who serves a dual purpose as supportive third-wheel and observant watchdog, who while making random assumptions with little proof, causing rather artificial intersectionality in his intents to help the troubled Chris, eventually follows through in an important third-act save.
Currently, as a student of sociology on Green River's main campus as well as amateur film blogger, I'm naturally trained to spot checks and balance in the sense of where and how our cultures stays affected. Whereas "Keanu" made a bold statement on intense humor alone, Peele takes it one step further on his own terms in blending fright with funny, while keeping a convincing argument in play with its natural relevancy only growing deeper before the last bitter kill. Rightfully, the audience (which I could guess was mostly African-American) cheered and applauded at every point Chris asserted himself against the otherwise unlikely racially hegemonic threat. I was also cheering, in the natural sense that regardless of who or what we are, there are some out there who will intimidate us for no clear reason. To have made use of the necessity to finally stand up against what we consider abnormal to the rest of us, be it people, preconceptions, or especially behavior, we're playing the right card in fighting back. 'Get Out" is a serious testament to that idea, and to how the typical "horror movie formula" can be put to positive use after a close restructuring, then a deep analytical breakdown. What would've made for an amazing extended "K&P" skit three years ago is now a capably intellectual, sharp-in-wit, and raw-in-its-affirmative-beauty film for the ages, a title for its time at a point when our media could stand to better represent everyone equally, no matter whose shoes they're wearing for a long weekend upstate. Best they fit you just right. (A-)
"Get Out" opens Friday at most area theaters; rated R for violence, bloody images, and language including sexual references; 104 minutes.