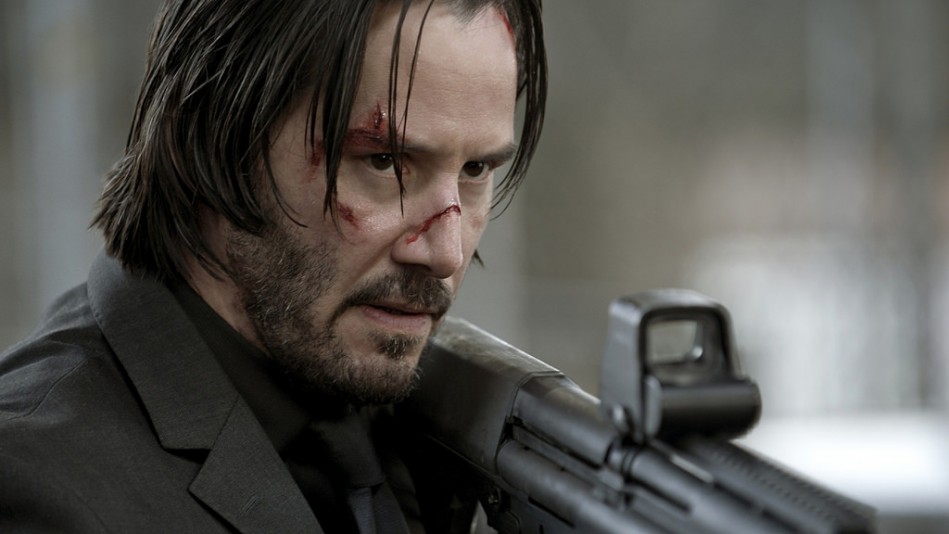 by Joe Hammerschmidt
There is something I feel obligated to admit right off the top: I must've been a far different consumer of film than previously thought compared to 27 months ago, which still doesn't seem like long in the grand scheme. Late 2014, I was still just discovering what the motion picture art form was capable of, attending as many previews as I could without any clue for how they worked from a promotional standpoint. So, to go in for a random hyperviolent action flick with Keanu Reeves in the lead role of John Wick, a morose hitman struggling to come to terms with the loss of his wife (Bridget Moynihan), my curiosity level at the time was the propellant. Her parting gift, an adorable dog, is later murdered, thus prompting John to take out revenge on the syndicate he had once worked for, only to have betrayed him. A vicious cycle carrying him all the way through that first movie. Wasn't so much that I enjoyed the violent action, I figure at the time it was refreshing to see Keanu, pushing 50, back at the top of his game, alongside collaborators Chad Stahelski (director) and Derek Kolstad (returning to pen the script). Combining a simple-to-follow plotline with a still-youthful lead made the original "Wick" a one-of-a-kind genre film. On the other hand, "John Wick: Chapter Two", struggles in adding or changing much to keep the budding franchise fresh, but still manages to retain the sharp wit, and even sharper violence, that while exceeding a level of overkill still applies itself effortlessly to the storyline.
Wick (Reeves) consistently insists for good he is retired, yet when a personal conflict hits him, he fights back full-on vigilante style. After recovering his stolen car from the lone leader of the crime family he personally eliminated one-by-one in the previous chapter, Wick is faced with a score-settling request from high level boss D'Antonio (Riccardo Scamarcio) to assassinate his sister, whom he believes had stolen his rightful position amongst an elite crime syndicate. After being sent the boss's calling card (complete destruction of his home), John reluctantly agrees to the job, but in committing to it, D'Antonio's most loyal bodyguard (Common) retaliates in putting the ultimate price on his head, forcing to John to question his work principles. Considering all this, you'd think the plot was easy to follow. Unfortunately, Kolstad considered every possible opportunity to overthink every element. At times, I was convinced I was losing my grip with the filtered reality this film was representing. I asked myself on the way home why I didn't black out from the full-on visual assault in the first film; clearly the creators were convinced ratcheting up the action value was the best way to raise the bar, when it was only lowered just slightly.
Despite the moments where this sequel had lost itself in the moment too much and struggled to reconnect, even with one-off characters who either deserved more screen time or none (John Leguizamo's auto shop jock more, Ruby Rose's mute assassin shtick far less), there is one great thing that saved the day for me: the presence of one Laurence Fishburne, even if it was only as a McGuffin/hero crime boss for one scene in the third act. Speaking as someone who only grew to appreciate the inner joy of the Matrix trilogy in the past year, to see Neo and Morpheus together again more or less protected this film from going completely off the rails. Said third act brings the elements back down to Earth, grounding itself in a way worthy of keeping the franchise balanced. Without giving much further away, the ending basically screams "if we make enough bank opening weekend, we will do a third of these!"
This second chapter in the "John Wick" saga, for all intents and purposes will not be the last, which surprises me as I've lost track of how many times I've had to bicker with a friend and tell them to not get their hopes up, especially if the movie we view is already an established franchise which had well overstayed its welcome. For as much unevenness as we as an audience must endure, at the core remains an honest tale of a hitman with a conscience, one he'd wish to expunge for all the wrongdoing in his life and for what is awaiting him on the path ahead. Reeves' charismatic character remains likeable in the sense that despite the criminal arc, he's still doing some good. Serious fans will find enough to gobble up while newcomers will likely struggle to keep up. Consider watching Chapter 1 at least twice before diving into the next; there will be some subtleties one is likely to gloss over. Let's hope one of those isn't Keanu, still in his element as a full-bodied action hero, even when it seems the role doesn't match. (B)
"John Wick: Chapter Two" opens Friday at most area theaters; rated R for strong violence throughout, some language and brief nudity; 122 minutes.