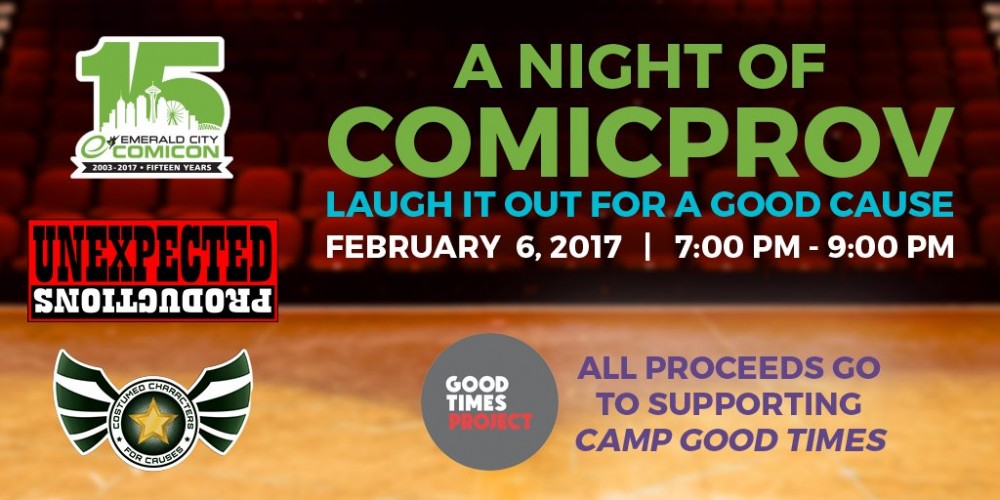 When it became apparent that the Green River College Campus was closed on that snow-bound February day, I came to an inescapable, heartbreaking realization: I was not going to be able to do a live show that Monday night.
Sorry folks! No live show tonight. Campus is closed.
We'll be back next week. Until then, check out our old shows!https://t.co/UImFIo6tNn pic.twitter.com/qIr7TlR0IX

— Monday Project KGRG (@MondayProject89) February 7, 2017
Instead, I was able to attend A NIGHT OF COMICPROV in downtown Seattle where the climate was slightly warmer and where snow on the road was a distant memory. I was greeted at the door by the Golden Age Flash, followed by Tim Burton-era versions of Batman and Catwoman, and our good friend, Tony Stark, all in glorious cosplay!
The "volunt-heroes" of Costumed Characters for Causes were on hand to pose for photos in a special booth from Emerald City Comicon in the lobby of the Market Theatre before and epic superhero-themed improv show from Unexpected Productions!
I had a really great time, and I thought I would share some of my favorite posts from that night!
Costumed Characters for Causes will be at the Emerald City Comicon, Thursday, March 2nd through Sunday, March 5th in the Family HQ area of the show floor posing for photos as your favorite superheroes and accepting donations to be benefit THE GOODTIMES PROJECT and Camp Goodtimes!
For more information, click this link: http://www.emeraldcitycomicon.com/en/Events/Events-A-H/Family-HQ/ or the image below

Here's where you can find CC4C on the convention floor at the Washington State Convention Center: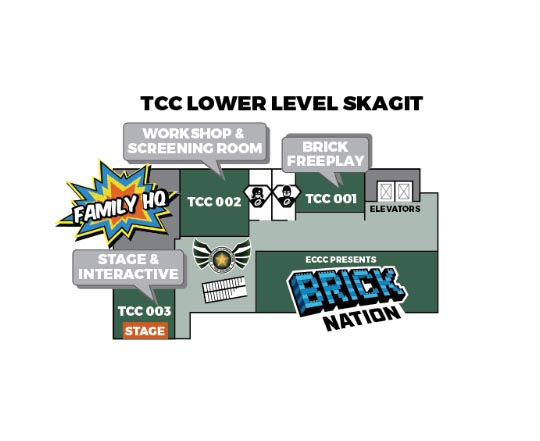 ---
Some say that laughter is the best medicine. Well, you're in luck! Emerald City Comicon has partnered up with Unexpected Productions and Costumed Characters For Causes for an improv night you'll never forget. Costumed Characters for Causes will kick off the night, posing for photo ops with excited Fans before we usher everyone into the theater for some killer "comicprov." There will be raffles and giveaways to be had, so don't miss out!
When: Monday, February 6, 7:00 PM – 9:00 PM
Where: Unexpected Productions (1428 Post Alley, Seattle, WA 98101)
Don't forget to RSVP Now
Also share the event page on Facebook!
Check out our promo:

Click the image below for more information: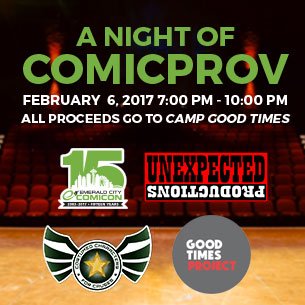 COSTUMED CHARACTERS FOR CAUSES – EMERALD CITY COMICON ANNOUNCEMENT!
Jason from local non-profit business COSTUMED CHARACTERS FOR CAUSES calls in to talk about their upcoming partnership with Seattle mega-convention, EMERALD CITY COMICON on 89.9 KGRG-FM's The Monday Project.
Click below for more information about the meet-up event on February 6th, 2017:
www.emeraldcitycomicon.com/Events/ECCC…ow-Meetups/